Basics of Decoding and Spelling Instruction
Learn how to teach decoding and spelling with structured literacy instruction!
This is a 5 unit course that provides instruction on how to teach decoding and spelling so that all students can learn to read and spell! It will transform your teaching so that you can reach all students!
It includes how to teach basic and complex phonics, spelling, strategies for reading and spelling multi-syllable words, and basic morphology (see below); these are all elements of the Word Recognition strand of Scarborough's Reading Rope (click here for more information about Scarborough's Reading Rope).
Please note that decoding and spelling instruction is one (important) piece of an effective structured literacy program, which should also include systematic and explicit instruction in other elements such as phonological awareness, fluency, oral language development (vocabulary, background knowledge, syntax, etc.), reading comprehension, and writing.
What is included?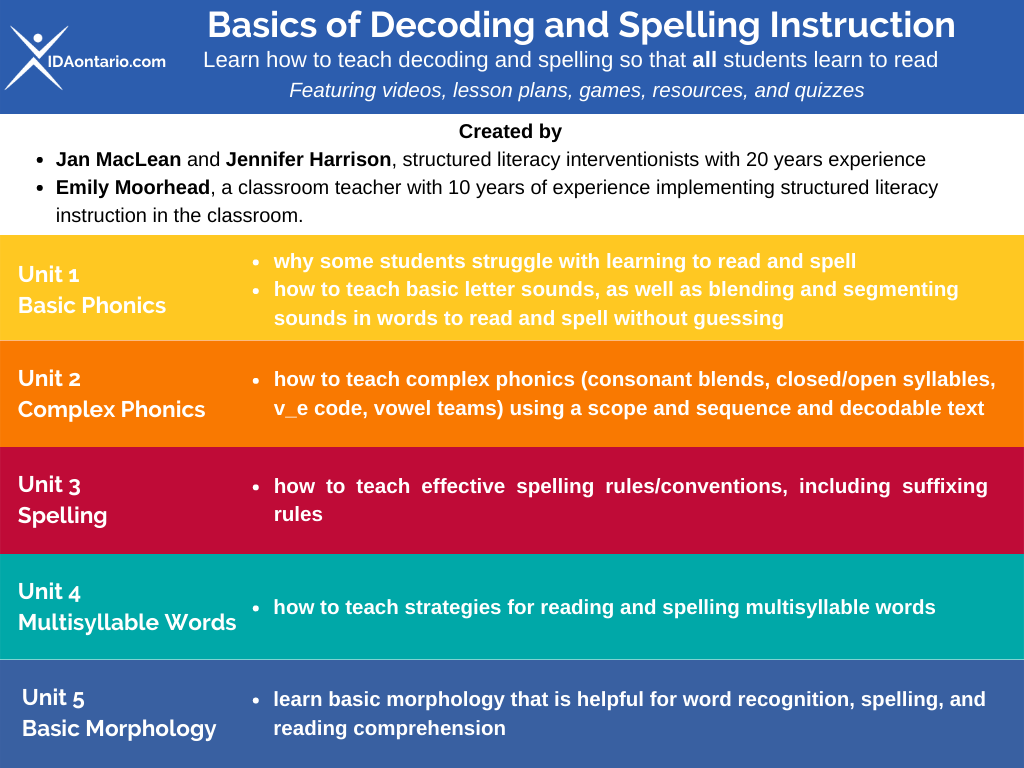 The course includes approximately 10 hours of videos that demonstrate how to teach the foundational skills of word reading and spelling, including the teaching of phonics, orthography (spelling), strategies for reading multi-syllable words, and morphology.
The video instruction is supported by downloadable materials including lesson plans, templates, and phoneme-grapheme card decks. At the end of each sub-unit, you can check your learning with online quizzes that provide helpful feedback to ensure your learning success!
Who is this for?
This course, Basics of Decoding and Spelling Instruction, has been developed for primary school educators. Nevertheless, the knowledge and strategies presented in this course for teaching foundational skills (phonics, spelling, strategies for reading multi-syllable words, and morphology), are also the essential basis for remediation of reading and spelling skills for older students.
If you are a parent looking to help your child with learning to decode words, you may want to start with two free webinars "Helping Your Struggling Reader" recorded by Jan MacLean for IDA Ontario. As a second step, you may find this course helpful as it shows a classroom teacher using engaging techniques to teach decoding and spelling, as well as spelling rules/guidelines, strategies to teach the reading of multi-syllable words, and basic morphology.
Is this course suitable for French/French Immersion teachers?
This course involves instruction about the English language system. The concepts and methods apply to instruction in French but most of the content such as letter-sound instruction, spelling rules, and guidelines, strategies for reading multi-syllable words are specific to the English language. Click on these links for more information about structured literacy in French, and French structured literacy resources.
Authors
Jan MacLean co-founded The Reading Clinic in Kingston in 2001 with Jennifer Harrison, providing 1:1 structured literacy intervention for children with difficulties in reading, writing, and math. When she retired from the clinic in 2016, there were 7 full-time employees, 40 students were attending daily, and hundreds of students had come through its doors. Jan served on the board of IDA Ontario from 2008-2012 and is currently a member of the IDA Ontario Advisory Board. Jan is a Certified Orton-Gillingham Practitioner and Educator as well as a Structured Literacy/Dyslexia Specialist.
Emily Moorhead (BAH, B.Ed) is a Kindergarten teacher in the Limestone District School Board. She completed her teacher training at Queen's University and is an enthusiastic and passionate teacher. Emily began using a structured literacy approach in her teaching when her own son experienced difficulty learning to read and has continued to learn and refine her practice ever since. Emily has worked as a mentor teacher and coach for teachers working with The Reading Teacher's Top Ten Tools and The Big Dippers and shares her classroom experiences with others through presentations, webinars, and professional learning circles.
Jennifer Harrison (BAH) co-founded the Reading Clinic in Kingston with Jan MacLean in 2001. Jennifer developed clinic curriculum and spent thousands of hours working with clients ranging in age from 4 to 18. She instructed both parent and professional courses at the clinic and in the community, and as Director, navigated the expansion of the clinic in 2016. She is an Associate Orton-Gillingham Practitioner & Educator. Since 2020, Jennifer has maintained a private practice in Kingston.
Jill Kearney, a volunteer with IDA Ontario, helped with course development. Thanks to other volunteers Martha Kovack, Joanne Bertrand, Azza Daba, Nancy Zomer, and Sharon Korosi for their helpful feedback during course testing. Karim Wallani has provided valuable technical assistance.

Cost
$75 for unlimited time access.
Individuals: Please register with the registration button below.
Group registration: If you would like to register a group payable by a group invoice, please complete this form and follow the instructions carefully. You will be required to upload an Excel/CSV file with a list of participants (with columns - firstname, lastname, email).
Students: Pre-service students enrolled in an education faculty can register for free. Please complete this form.